Seminar for cheese producers in Holland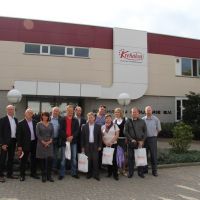 21.11.11
This year traditional voyage of Russian cheese producers called «Gollandsky» took place in September. This time the representatives of cheese-processing plants of Altai, Udmurtia, Arkhangelsk and Voronezh regions took part in the seminar organized by the companies Krehalon and Logos.
As usual, the seminar started in the city of Deventer where the production complex of Krehalon company is situated. Guests listened to the lecture by the Chief Technologist of the company Mr. Bach about the assortment of the packaging materials for cheeses, after that during the tour in the production facilities guests could assure themselves that all the standards of European producton are observed in the process of the realization of high-precision Japan technologies.
In the end of the aquaintance with the plant the work of the equipment, fulfilling the packaging using the technology (FormShrink) was demonstrated .
Being a logical continuation, there took place the visit to the production complex of the company SealPac, producing the packaging equipment for the films FLO21 и FS, manufactured by Krehalon. The participants of the seminar were suggested to listen to a thorough lecture of the Sales Director Mr. B. Bross about all the kinds and peculiarities of the equipment produced.
Next day the professionals in cheese-processing were invited to the family enterprise Lekkekeker. The enterprise is engaged in modernization of the pre-owned equipment for milk processing, suggesting to the clients practically new technological equipment but at lower price. Anyone can envy such a rich assortment! Apart from this business, the enterprise is the owner of the plant producing cream cheese and also processed cheese. Guests of the seminar were given the opportunity to get aquainted with the production organization and the technologocal process.
The day before leaving was happily spent by the guests in famous Amsterdam where they could get to know its "attractions". Those who wished to deeply get into the spirit of Holland took the organized trip to Hague, to the famous museum Maturodam. where the whole country is presented in miniature in the open air. I think, there was noone left impassible.