IFFA 2013 - FRESH IDEAS!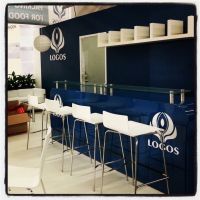 22.05.13

IFFA

2013 has finished – being the major industry exhibition - and we sucessfully came back home from hospitable city of Frankfurt am Main, a business and cultural center of Germany.

IFFA as the most important event of meat industry was started in 1949, and has taken place once in 3 years. It so happens by tradition that IFFA is both a show and a demonstration of all achievements and know-hows in the meat industry.

Nowadays, while summirizing the results of our participation, we can hardly believe that decision «to take part or not to take part» was taken slowly and not unhesitatingly. Although, perhaps that's the secret of a success. Everything was thoroghly thought out, verified, weighed up, specific intents and expectations were pointed out for this exhibition in adavance.

We are certain that it will become possible to determine precise evaluation of practical result and economic effectiveness from our participation only in 6 – 9 months of effective work in the direction specified, but even today we would like to «scream out loud» about the chance that IFFA has given us to see with great optimism both the future and our perspectives for realization of own-produced products far abroad, on the basis of strong and sincere interest of our visitors during these memorable 6 days.

We wholistically and comprehensively presented all own-produced products at the exhibition:

· "BECKDORIN" collagen film

· "NET-CASING" fibrous casing in a net

· Fibrous bags

· "LOGONAE" elastic and non-elastic nets

· Continuous clip

· Sausage loop

· Cutter knives

A special spirit of unity and cohesion penetrated our meetings with russian clients, whether the meeting had been planned or not, when eyes were warm and a smile was big.

Besides, positive evaluation of IFFA 2013 and its qualitative growth by opinion of participants (86%; 2010 – 81%) and visitors (97%; 2010 – 94%) is a general tendency with clearly expressed positive dynamics.

Also we would like to mention that the delegation from Russia was the biggest one, excluding the Germans themselves. The same happened in 2010. This circumstance (undee the general tendency of growth) demonstrates a sustainable interest and even, probably, a defined level of the development of meat industry in Russia.

Objectively speaking, we would like to give some statistical figures, which obviously illustrate the situation in meat processing indutstry in general and, particularly, relevance of

IFFA:



| | | |
| --- | --- | --- |
| FACTOR | 2010 | 2013 |
| Companies - participants | 942 | 960 |
| Countries- participants | 47 | 47 |
| Visitors | 58 245 | 60 266 |
| Countries- visitors | 142 | 142 |
| Percent of foreign participants | 59% | 61% |
| Percent of foreign visitors | | 57% |
| Exhibition area | 103 900 m2 | 110 000 m2 |
Among exponents there were traditionally present such famous world manufacturers as: Visco Teepak, Devro, Fabios, Krehalon and many others, whose products have become well-known in Russia thanks to «LOGOS» company.
We are pleased to understant that we have been keeping longterm and mutually satisfying partnership relations with the majority of them.
That made our presence at one exhibition area even more enjoyable for us having one status- status of a manufacturer.
Let it be that today we have only started to write our export history, the main thing is that we are trying to become not the biggest but the best!
Yours, "LOGOS"
WE CARE ABOUT YOU!