BONE GUARD - STOP BLOWOUT!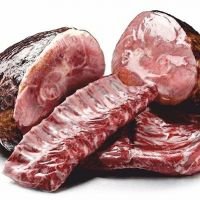 26.07.13
We are glad to bring to your attention the latest novelty in the range of the goods offered by LOGOS company - protective material BONE GUARD, irreplaceable for vacuum packing of products with a bone.
From technological point of view this product is unique because, on one hand, it allows to minimize a share of packing in prime cost of a product and, on the other hand, it increases reliability of packing to 100% and as a result increases attraction of packaged product.
These advantages are reached by using of a thinner vacuum bag, and moreover, the segment with a bone is reliably protected from punctures by our novelty – BONE GUARD.
BONE GUARD - synthetic non-woven fabric made of high density polypropylene with innovative adhesive treatment (vaseline and food wax).
Its extra-strength allows to prevent punctures of vacuum packing by bones of any degree of sharpness, and adhesion to fresh red meat and poultry doesn't allow the cloth to be displaced when pre-packing in a vacuum bag.
Thus, reducing the cost of packing, you protect yourselves from spoilage caused by loss of containment and add to your product powerful advantage "on store shelf" due to attractive view.
BONE GUARD is offered in various width (11, 15, 23, 30, 38, 46 cm) and can be punched for any width for simplicity of use.
Yours, LOGOS
P.S. WE CARE ABOUT YOU