SHORT OF BUNGS AND ROUNDS? FIND THE SOLUTION!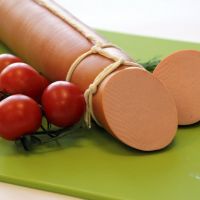 26.07.13
Despite the fact that from the time of creation of meat processing branch till now natural animal casings have been recognized the perfect form of sausage casings ever existing, current actual reality dictates its own terms of meat product market conditions.
Trying not to waste time on long citation of possible advantages of natural casing use, we understand that this product is unlikely to lose its actuality in the world market of meat processing industry, and therefore we are simply reconciled to a fact that a sudden deficit in natural animal raw material supply and prices increase, associated with it, put some of Russian manufacturers of sausage products at a stand.
Moreover, from technological point of view, such cases when a meat processing plant can use only a natural casing do not happen in practice.
Nowadays one of worthy alternatives to a natural casing is «EDICOL-Т», a tubular collagen film manufactured by "DEVRO" company.
The film is fully edible and absolutely invisible on the surface of the end product, it has a wide assortment of calibers, thus making possible the substitution of both beef rounds («EDICOL-Т» 50, 55, 60 calibers) and bungs («EDICOL-Т» 80, 90, 105, 125 calibers) for the film.
Besides clear advantages mentioned above, a tubular collagen film enriches succulence of the end products, while decreasing thermal loss, ensuring a standard product yield concerning size and weight of the end products, and also – which is even more important – ensures high productivity when applying high-performance automatic and semi-automatic fillers and clippers.
We are always ready to offer you the best possible solutions in current market environment!
Yours, LOGOS
P.S. WE CARE ABOUT YOU