VISKOTEEPAK 2013 SEMINAR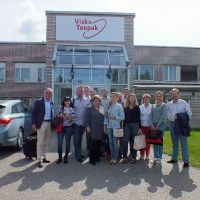 03.09.13
A traditional annual seminar, organized by Visko Teepak, an international company, took place from August,19th till August,23rd 2013, having its aim to represent to the consumers manufacturing peculiarities and specialties in the sphere of cellulose and cellulose-armed (fibrous) sausage casings. The distinctive feature of this event was the participation of LOGOS company not only as an authorized dealer but as a business partner who was fulfilling full cycle and variety of additional preparation of the material delivered by Visko Teepak for feeding of sausages and their retail realization. For this purpose in the frames of the seminar the visitation on manufacturing and converting center of LOGOS company was organized for the first time.
Representatives of 10 meat-processing plants situated in the territory from North-West region to Transbaikal took part in the seminar. The seminar started from the visit to Sosnovy Bor in Leningrad region, where manufacturing facilities of LOGOS were based, these were ULTRAPAK and BECKDORIN leading converting and manufacturing activity under sausage casings and packaging materials. The main goods warehouse of the company was also situated there. Acquaintance with manufacturing areas started after opening speech of Technical director Mr. Denis Shegerdyukov. He showed to the audience areas of printing and shirring of sausage and frankfurters casings and also the novelty – manufacturing line for the preparation of shirred casings under RTU (ready to use) technology. As an example of mutual cooperation there was represented a high-productive manufacturing line acquired several years ago from Visko Teepak for the production of fibrous casings with a net sticked onto them (Net-Casing). After that visitors inspected the equipment on fibrous bags stitching both bags with the direct seam and figure-shapes bags and also the manufacturing line for cutting of vacuum heat shrinkable bags and for cellophane sleeves manufacturing for cooked "retro-styled" sausages. The participants of the seminar felt a sincere interest arisen by the area of knitting of elastic and non-elastic nets for use together with casings while manufacturing of sausage products. They were proud by new net-knitting machines, which let to knit all kinds of elastic nets, including "string" type, having high productivity of up to 10 lanes simultaneously. Visitors were convinced that LOGOS was steadily becoming one of the leaders among Russian manufacturing companies. One more time it had been proved during visitation to a manufacturing facility producing BECKDORIN collagen film. Impressive by its scale the manufacturing facility let not only meet the requirements of Russian branch but also organize deliveries of the product abroad.
Having learnt about the possibilities of our company, the group of visitors traveled by sea on a comfortable ferry boat «Princess Maria» from Saint-Petersburg to Helsinki, where the next morning we were met by the representatives of ViskoTeepak company. Quick transfer to the city of Hanko where the plant producing fibrous casings was situated was not exhausting for us, all visitors were interested to hear the opening speech of Mr. Erik Gijsen, Sales Director of Visko Teepak, who kindly flew from Belgium to have a meeting with us, and also to hear the speech of Mr. Joachim Lund, Plant Manager who talked about fundamentals of manufacturing of fibrous casings and basic stages of the technological process. After that the production control center had been shown to the visitors, a special characteristic of which was maximum automatization of basic chemical processes, performed in isolated premises without participation of a person, under computer management. The place of birth of any casing - the formation of paper sleeve and its treatment by viscose – could be seen by the visitors by their own eyes. The plant tour that followed showed high level of automatization of all processes – cutting, packaging, warehousing of the casing, and also "tender" (no other words) attitude of the Finns to the protection of the environment. Visitation of the plant was finished by the speech of Mr. Sergey Penushkin, Moscow branch Chief Manager, he gave a detailed information about the implementation of different casings and, which was more important, about new types giving the possibility to make the process of feeding of sausage products more economic and effective.
Subsequently the group of visitors traveled to Turku Airport and following half-hour flight we landed at Mariehamn Airport on the island of Aland where the headquarters of Visko Teepak company was situated. A gala dinner dedicated to the visit of our clients' group was organized at high level in panoramic restaurant of HavsVidden on a picturesque seashore and gave all the participants the possibility to an communication in informal setting with top-management and owners of companies. There were present Mr. Ben Erikson, current owner of the company, and Mr. Thomas Pussinen, Vice-President on Sales and Marketing. На The nest day everybody got together in the office of the company, where Mr. Pussinen talked about the investment group ERIKSON CAPITAL, being the owner of not only factories producing sausage casings but also active in other spheres of business. After the tour through cozy Mariehamn and visit to sea museum, guests moved to the airport again to half-hour flight to Stockholm – the historical motherland of ERIKSON group.
In Stockholm we had a journey on a boat and had a chance to sightsee: a King's Palace, Old City, shopping streets … As a bonus we had a chance to see the separation of King's horse orchestra playing – strange as it may seem – classic music. All evening and all night through sea liner "Gabriella" rushed us by the waves of Baltic sea to Helsinki but no one had a sleep that night – full of impressions and desire to share those impressions!
Silent Helsinki and a city tour made us feel romantic. When express train "Allegro" took us back to Saint-Petersburg everybody felt that our parting will mean only one thing – that our meeting is waiting for us soon!