FASHION FOR CLASSICS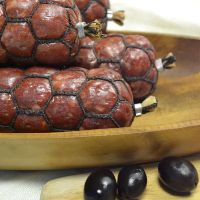 31.03.14
We would like to call your attention to fibrous casing in a net.
NET-CASING is used for the manufacturing of all kinds of sausage products:
uncooked smoked sausages, raw cured sausages, cooked-smoked sausages and semi-smoked cooked sausages.
This casing carry all "classic" advantages of fibrous casing, while lets to focus on the very product, to stand out the premuim line on the shop shelf.
Black color emphasizes the unique character of your style, and Your consumer will quaranteedly be trapped in a net - FOR SURE!!!
YOURS, LOGOS | WE CARE ABOUT YOU