FASHION FOR WRAPPING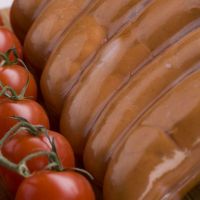 12.05.14
If we compare a popular means of youth preserving - wrappings with natural components - with shrink wrapping, we can see a lot of in common: THM Krehalon bags are designated for surface pasteurization and prolongation of terms of storage, so to speak "the youth" ofYour products . For example, it is possible to store sasusages in a regular Krehalon bag for 30 days, in THM bag - for 60 days.
THM Krahalon bags provide preservation of natural look of the product to be packed into it. THM film that is hardly seen on a product is a way of reliable demonstration of its natural qualities and attraction of the consumers' attention.
Besides, the manufacturing technology of THM bags exclude chlorine components usage thus corresponding to up-to-date requirements of minimization of package waste influence onto the environment.
Krehalon bags preserve Your products and present them most attractively.
Use paxkaging "wrappings", prolong the youth pf Your products together with THM Krehalon bags!
YOURS, LOGOS | WE CARE ABOUT YOU