FASHION FOR NATURAL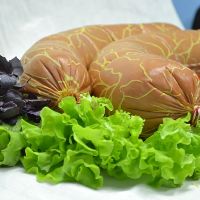 26.05.14
Collagen casings by Fabios are similar by their properties to natural casings because collagen fibers are the material for their manufacturing. Collagen fibers are being produced from the split of cattle skin. Besides collagen casings have advantages before natural casings by such parametres as elasticity, strength, bacterial purity and manufacturing capacity, however saving their best properties and advantages such as caliber stability, minimum of waste, possibility to be used on different types of equipment.
The casings are to be used for different types of sausages (uncooked smoked , dry-cured , semi-smoked, cooked-smoked sausages and hams). You can give a product different shapes - ranging from traditional straight to rings. And the wide choice of colors and calibers let to find a variiant that suits You best!
By means of marking and usage of bigger calibers You will reach an absolute outlook similarity with products in natural casings.
Look at Fabios casing with background coverage "Sinuga" which is best suitable for manufacturing of cooked and cooked-smoked sausages. On out opinion, it is very natural - two for two!
YOURS, LOGOS
WE CARE ABOUT YOU