We have finally gathered together!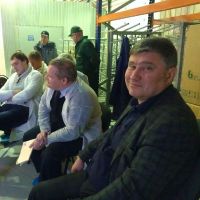 10.02.15
On February, 2nd 2015 in Logos Manufacturing and Logistics Center, situated in Sosnovy Bor, there was organized the meeting for our colleagues - top management, commercial department, technologists and marketing specialists of Logos company gathered together to discuss urgent matters and to shape plans for 2015.
After arrival all participants took part in an informative tour through manufacturing facilities, including the visit to pre-sale preparation sector (printing, shirring, RTU) for all types of sausage casings, to vacuum thermo shrinkable bags section, large equipment fleet of netting machines, manufacturing a wide assortment of nets: forming, decorative, technological nets for food industry, to the manufacturing sector of fibrous casings with Net-Casing nets glued onto the surface of the casing.
Besides the areas, mentioned above, a special attention was paid to the manufacturing line of "Beckdorin" edible collagen film, acquired by Logos company in Germany. The participants were clearly demonstrated by each production stage of full technological process beginning with raw material filling and finishing by the end product shipment.
In the end of the tour the participants visited the manufacturing facility of continuous clip under "Clip-Master" brand, aimed at clipping of all kinds of casings on high-performance automatic clippers such as "Poly Clip" and "Alpina".
Each product, manufactured by Logos manufacturing facility, undergoes the Quality Insoection by the Quality Control Service which let to manufacture the products correspponding to FSSC 22000 International Standards and Requirements.
After the tour there took place the General Meeting with Vitalii Smurygin, Sales Director, Elena Kotsenko, Commercial Director, Alexey Andreev, Deputy Director General on Development of Manufacturing facilities, and Maria Funikova, Marketing Chief Manager among the Speakers. Vital issues such as market situation were discussed, pland for future were set up.
We have got a lot of plans, and own manufacturing facilities help us to be sure in our future as never before. As never before we are ready to realize the idea of import substitution, because we use russian raw material components while producing some of the products, which let us to form lower price in comparison with the price for some import analoques.
That highly topical meeting ended in an informal setting - at "Shadows" show in "Olympia" Palace. We enjoied it very much and found ourselves on the way home after that. We ended up by the decision to meet more often, at least once in a quarter!