Meat products and gastronomy of different countries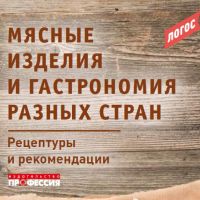 11.02.16
Dear Sirs!
We are pleased to inform You about the publication of a Recipe Book named "Meat products and gastronomy of different countries", announced by us during "Agroprodmash-2015" Exhibition! The Book was published by "Profession" Publishing Office together with Logos company and addressed to technologists, developpers of new products and other experts of meat industry and to all those, having ineterst to sausage and meat products culinary art.
This Book, being the unique author's work, is also the result of hard cooperative work of Maria Koroleva, Ph. D., Vitalii Smurygin, Ph. D. and Natalia Smurygina, Ph. D.. It includes recipes of meat products of different countries being non-standard for Russians but proven good on practice, groupped on the basis of territorial factor - their usage area.
The group of authors comprises of professionals, eminently qualified to have academic and practical knowledge in meat products technology, including own scientific works and inventions. All data which can be found in this reference Book, were taken as from famous and from highly specialized educational books, translated and foreign ones, and have been preliminary worked out and arranged in order to be the most "convenient" for the User. Also, to specify certain recipies, some foreigh professionals were drawn into the work.
Indisputable advantage of this Book for the User is its clear structure in presenting data:
- introduction consists of the main technological operations and raw material characteristics;
- the main part – contains recepies under a unique form of presentation with visual pictograms serving as a prompt, where 10 kg is taken as a unit of measurement;
- useful appendix in the form of a table, calculations, recommendations on proper thermoregime choice;
- also recommendations on packaging materials choice, bearing in mind the peculiarities of a certain product use.
Besides the recepies the Book contains reference part on types of casings and packaging materials, which are suggested by Logos company.
It is necessary to note that the significance of this Book is not only that it is well thought over but also it is - being "the bunch" of joint experience of real professionals - has the practical benefit of a Reference Book. Together with excellent food-designer appearance this Book is worth placing onto each working table of any technologist!