Agroprodmash 2011 – how it was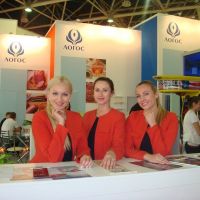 31.10.11
Regular Agroprodmash disappeared round the bend to leave pleasant impressions about receptions and events which were taking place in Expocenter during those dull but still not less cheerful October days.
This year during the exhibition we presented both a traditional assortment and several specialties: wide choice of decorative fibrosis casings Net-Casing and nets Logonet of own production, fibrosis casings Brilliant and Satin produced be ourpartner - company Visko Teepak and textile casings Viskoflex produced by company Nomax.
The main highlight that we prepared for Agroprodmash 2011 was our new Internet site. For the first time on the site www.logosltd.ru
You can order any casing on-line simply filling an order form! Many of our clients have already appreciated simplicity and convenience of such a work scheme. Feel free to join us!
In conclusion we would like to express our gratitude to all who visited us during the exhibition for the warm atmosphere, goodbye for the moment!