SEE YOU AT AGROPRODMASH 2013!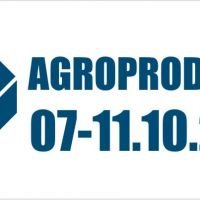 30.09.13
"People do not know what they want until they have been given what they wanted."
Terence Konran,
the legend of English design ,
the owner of world-wide chain stores,
a restorauteur.
DEAR CLIENTS, PARTNERS, FRIENDS!
Autumn rules the day, and this means that AGROPRODMASH with its long-awaited meetings, new acquaintances and a lot of intercommunication on business matters and others is coming...
As before, AGROPRODMASH, being the Annual International Exhibition, kepps the status of the most significant event of meat-processing industry of Russia, the preparation for which usually starts for the Exponents practically straight after the closing of the previous exhibition.
As before, during working hours of Exhibition You will have a chance to be familiarized with all world specialties, best techological solutions for meat-processing industry ans last achievements of the companies within the industry.
As before, LOGOS company will represent to its guests packaging materials, among which traditional hits of sales and speaiclties from innovative packaging solutions sector will be represented.
For the first time in its history we will invite you to our cocktail parties this year, each party having its own chatacter and musical assortment, to diversify the leisure time of our friends and our potential clients at our booth.
Musical maraphone will start with Latino party, its catching rhymes together with bright and tasty cocktails are to guarantee sunny mood to everybody not depending on weather conditions of freak autumn and will definitely leave pleasant aftertaste in the coarse of working days.
On Wednesday October, 9th, there will be Lounge Party – being wonderful alloy of easiness and deepness at once, luxurious cocktail of peaceful atmosphere, relaxing music and lounge mood for the connoisseurs of lounge style.
And in the end – on Thursday, the baton will be passed to jazz party – a magic music, joining Europe and America - from jazz-quartet accompanied by marvellous vocal singing of Anna Buturlina. Jazz parties are always a high-cultural capture of minds and hearts of all participants.
See You at AGROPRODMASH 2013!
Booth No. 23В30, Hall 2 , Room 3
Yours, LOGOS | WE CARE ABOUT YOU
To receive an invitation ticket You are advised to register electronically.
Follow the link: http://www.agroprodmash-expo.ru/ru/visitors/tickets/
Fill in the form to receive Your invitation ticket in several minutes which will be sent t You to the e-mail address indicated by You.
The electronical ticket on electronic carrier (smartphone, i-pad, etc.) or its printed version will give You the right to visit AGROPRODMASH 2013.