SHORT OF CAPS? FIND THE SOLUTION!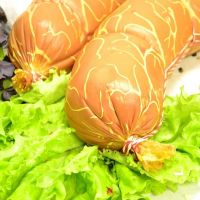 29.09.13
FABIOS collagen casings 80, 100, 120 mm calibers are one more dignified analogue to natural caps.
These casings are manufactured under a unique technology from high-quality collagen fibers and are intended to production of sausage products under traditional technologies. FABIOS with background covering «Sinuga» is an excellent match for manufacturing of cooked and semi-cooked sausages.
The formal resemblance with products in
natural casings
is easily reached by means of marking capacities, thus collagen casings prevail under natural ones due to such parameteres as elasticity, strength, bacterial purity and production capacity, preserving all their best characteristics and advantages:
Possibility of use an all types of equipment, including those for hand tying
Stable caliber while stuffing
Farce capacity increase by means of elasticity of a casing
Achievement of analogue flavor and aroma properties while smoking and heat treatment
FABIOS collagen casings are manufactured in accordance with HACCP system principles and ISO 9001:2008 principles and correspond to ЕС № 1935/2004 Directives requirements.