NEW COLOR OF PENTAFLEX SINUGA IS A PREMIERE OF AGROPRODMACH 2013 !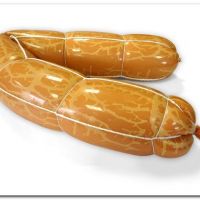 29.10.13
A new color for PENTAFLEX SINUGA N, a classic polyamide casing, and also its differential design of fibers, makes the layout of sausages and hams, packed in it, very attractive and maximum close to the products in natural casings, - to gratify our customers.

Best technological qualities of high-qualitative polyamide casing will not leave the manufacturers indifferent. PENTAFLEX SINUGA N is definitely to impress meat-processors by its high level overstuffing: farce capacity of meat products will reach 28-30%.

Thus, our resume is that for today PENTAFLEX SINUGA N is the most successful symbiosos of outer attractiveness and the total of characteristics among polyamide casings, imitating natural sinuga.
SCOPE OF USE:
All kinds of cooked sausages
Hams
Sulze
ASSORTMENT:
CALIBERS: 65, 80 mm
SHIRRING
MARKING: double-sided printing up to 6 colors
DELIVERED in rolls and shirred-type
YOURS, LOGOS | WE CARE ABOUT YOU