NEW COLOR OF PENTAFLEX CASINGS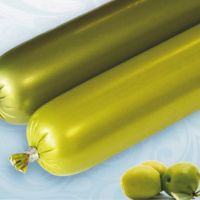 09.12.13
Meat and dairy products market developing is dynamic, it is characterized by high level of a competition. A consumer dictates his/her own rules determining its assortment and prices. In such conditions it is impossible to act without an individual approach to presentation of the products. For that very reason PentoPak company has worked out a new color of PENTAFLEX casings – olive metallic.
This color, being inimitable, complements metallic shades of PENTAFLEX series (gold, gold 4, light gold, bronze, light bronze, copper, red copper) and lets to satisfy the needs of the most exacting customers.
The casing's color of olive metallic can beneficially present the product on the shop shelves, both for sausage products packaging and for cheese and dairy products packaging.
If this very color of the casing being used with personalized coverage of the manufacturing facility while the sausages being packed with the addition of olives or, for example, pistachio ice cream, it will be the most harmonious way of presentation of the product to a consumer.
YOURS, LOGOS | WE CARE ABOUT YOU