FASHION FOR A SAUSAGE CASING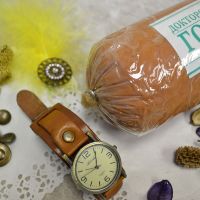 24.02.14
The first to participate in our Fashion Show is Doktorskaya sausage in cellulose sleeves.
Cellulose sleeves have been used for dozenss of years in meat-processing, they are especially popular among manufacturers who are willing to save traditional recepies of farce and are paying much attecntion to the layout of the end product.
Cellulose sleeves are a guarantee of premium layout of the product with a traditional stuffing.
Besides, cellulose sleeves are easily removed from the end product and let to get a special crust on the surface. Besides all their advantages cellulose sleeves are distinquished by low price.
YOURS, LOGOS | WE CARE ABOUT YOU