PREMIUM FORMAT WITHOUT OVERPAY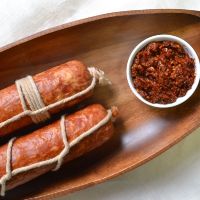 24.03.14
If You buy color free EDICOL-T, 50, 55, 125 caliber - You will get string for hand tying for sausages as a present! Now if You want to give end your product premium layout You need not to overpay!
We would like to remind You that EDICOL-T is an edible collagen tubular film-sleeve, intended to be used in manufacturing of traditional cooked (and so loved by people), cooked and smoked, and semi-smoked sausages, holiday uncooked smoked and raw cured sausages, hams and other delicatesse, including different clear smoked products in a net, meat bread in different net press-forms.
Having mentioned "product" universalism of the end meat products, an important role belongs to vivid advantages of EDICOL-T, such as
* EDICOL-T can be used on all types of equipment;
* EDICOL-T provides natural layout of the end product and is absolutely invisible on the surface of the product;
* EDICOL-T enriches juiciness of the product by means of meat juice loss reduction when heat treating, thus quaranteeing the achievement of high flavor and aroma results while smoking, ripening and drying.
P.S. - Buy 1 km of the casing - get 4 km of string as a present! Offer is limited.
YOURS, LOGOS | WE CARE ABOUT YOU