FASHION FOR COLORS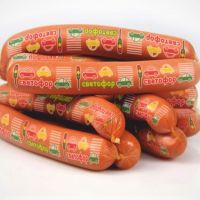 17.06.14
It's neither a secret nor a news that the main place of fighting for a consumer between sausage manufacturers is a shop shelf. By the data from РБК.research "The behavior of a Consumer on a Sausage Market of Russia in 2014" investigation, 40% of Russians while making choice among sausage products tend to buy the same trademark of sausages, wieners and other meat products.*
Bearing this in mind, the first aim is to become brighter and more attractive of the shop shelf (definitely, saving two main constants - shelf life and quality of the end product). Multicolored printing on sausage casings is not a miracle any more, and multicolored printing on wieners which has always been monochrome bound, is now an old custom!
VISKOTEEPAK company, being a world leader in manufacturing of fibrous and cellulose casings for food industry, presents multicolored printing on WIENIE-PAK, a cellulose casing for wieners, making it possible to apply up to six colors on each of a wiener's sides!
We also would like to remind You about the rennovation of the printing equipment stock for WIENIE-PAK casing by VISKOTEEPAK company thus making possible for VISKOTEEPAK company to start suggesting non-stop printing with advanced quality and thinning of printing lines.
It is one more important reason for meat-processing plants in the fight for minds and hearts of Consumers thanks to bright colors and unique individuality of multicolored printing. Do not miss Your chance and create You own recognizable brand!
YOURS, LOGOS
WE CARE ABOUT YOU
*By the data of informational analytical magazine "PARTNER. MEAT-PROCESSING, #3(53)/14.