Novelty: STRING net is a universal net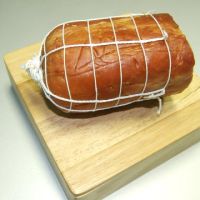 19.02.15
We represent a novelty manufactured by our manufacturing facility: it is the universal elastic forming net called LOGONET STRING 140/6/7.
LOGONET STRING 140/6/7 has the unique netting with frequent position of crossing rubbers, with rubbers' thickness being mashed, which let to evenly spread forming load onto the surface of a tender product.
This net is ideally suitable for the product on delicate collagen casings such as "Beckdorin" and "Edicol".
LOGONET STRING 140/6/7 net is also impossible to replace for fish-processing industry, in particular for the smoke-dried and smoke-cured products, fish rolls, ready-to-cook fish. It lets to preserve tender fish wholesome, while thanks to its original netting this net helps to attract the consumer to the product on the shop shelf.
LOGONET STRING 140/6/7 net is represented in 1 caliber, but its universality lets to pack the product of the diameter from 40 up to 100 mm.
You can contact one of our managers if You want to order the samples and get more detailed information about LOGONET STRING 140/6/7 net.
Yours, LOGOS