Internal Seminar of Sales Department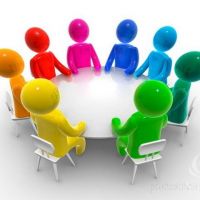 17.06.15
On June, 11th 2015, as we were approaching The Day of Russia, an internal seminar of Sales Department took place in the Head office of Logos company located in Saint-Petersburg. The seminar was dedicated to working results of the first half of the current year. All managers, including Brand Managers and Branch offices Chief Managers, took part in it.
This time the seminar was shaped as an individual conversation of Chief Managers of each Department with every Manager which let us to concretize both the results of each Manager's work and his/her contribution into general result of the Company.
After that the General meeting took place based on the results of individual conversation, with Commercial Department, Technological Department and Marketing Department Managers as the participants.
Vitaliy Smurygin, Sales Director, summarized the work undertaken for the year to date as compared with the analogue period of the previous year, thanked all company departments for selfless work and mentioned the increase of sales as for the majority of product groups. He also said that due to crisis-like symptoms development in Russian market sales goals for some product positions had not been reached and stressed the importance of thorough work of each manager in the realization of the goals set – wherever he or she was.
Elena Kotsenko, Commercial Director, also thanked everybody for excellent work and set up new aims in connection with the changes in manufacturing sphere – as own and one of the suppliers'. So, ViskoTeepak company started manufacturing a new fibrous casing of CRF type, maximum close to protein casing in appearance but having advanced overstuffing ability. Besides, ViskoTeepak company started a new manufacturing line for the production of cellulose sausage casing called Wienie-Pak.
In May 2015 Logos company increased our manufacturing capacities for calibrating and tubing of hog casings. Thanks to such a timely decision, now Logos company is able to produce more of full assortment of natural casings. Natural casing of Logos now have stable high quality, there is the possibility of sorting and tubing at individual request of the Client.
The report about products, manufactured at own manufacturing facility, was made by Maria Koroleva who gave details about new profile of Alpina clip, about the improvement successfully done on Poly-clip profile and also about plans for forthcoming expansion of equipment stock for Logonet non-elastic nets.
Elena Dmitrieva, Brand Manager of Polyamide and Protein Casings, told about current situation in the market of polyamide casings which had been significantly developing this year. Special attention was paid to round non-permeable casing called Pentaflex-Kranz which had been selling readily lately.
Vitaliy Smurygin emphasized again that all mentioned abovehelped us to set goals which should be achieved by all means.
To achieve the goals set, a manager should be active in sales promotion both of single product groups and in the company promotion in general – this idea stressed by Maria Funikova, the Head of Marketing Department. She also summed up the results of the competition for our clients called "Simple Comp", pointing out those managers whose clients had been especially active, thanked everybody for their contribution and told about future plans.
To bring the seminar to a conclusion, Alexey Andreev, The Head of Manufacturing Facility of Logos, answered many questions of those present.
After the official part of the seminar there followed the exchange of opinions.
Dear colleagues, see You next time!