Joint seminar of the companies Logos and Visko Teepak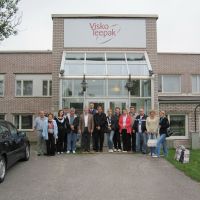 22.08.11
From August, 15th till August, 19th there took place the traditional joint seminar of the companies Logos and Visko Teepak. This time the seminar seemed extremely unusual even though being quite traditional. The seminar guests for the first time visited the production complex Visko Teepak in Finland.
Right away we would like to emphasize that this trip left lasting impressios to every participant, without exception, despite raining finnish every here and there. In fact, the majority of the participants visited this famous for its changing weather but welcoming country for the first time. Especialy interested were those who had already visited this enterprise in Belgium and could compare the peculiarities of fibrosis casings production based on their own experience. Those who for the first time saw fibrosis production, probably, were extremely surprised by the fact that the large chemical enterprise could be so successfully filled into natural landscape and could cause no damage to the environment. Sanitation facilities on separate lines treat the water and air by special biologocal methods. This is a special pride of the company Visko Teepak, as the production complex is situated by the sea in the resort area of the Cape Gangut in the south-west of Finland, not far from Hanko city.
And still the main peculiarity of the enterprise is its high level of production automatization. Here you can rarely meet the work staff, as practically all the process parametres are being monitored by over 20000 sensors, controlling all the stages and areas. All incoming data are output on the monitors of the control center, slightly reminding of the Mission Control Center. 8 million Euro were invested into the automatization process which has been constantly carried out over the years. On a 24-hour basis two supercomputers perform all incoming data processing, one more supercomputer - serving as a reserve. Over 5000 parametres are permanently being put into computers' memory and saved up to 5 years for the analysis to be made in case of any claim concerning the product quality, to check if there had been the failures in the technological process, and to take corresponding correctional measures. That's why all we are already certain that finnish casing is an unsuperable one by quality!
This opinion of the participants was supported by the staff and specialists of the company Visko Teepak, who with pleasure and knowledge told about all the peculiarities of the work with fibrosis casings - both traditional and most recent in the market. Finnish engineers gave a new lease of life to matt casing "satin", for those who appreciate brighter colors there has been represented the casing "brilliant", and for those most advanced - fibrosis "max", nearly unknown in the Russian market.