IFFA 2013. AGAIN WE INVITE YOU TO OURS!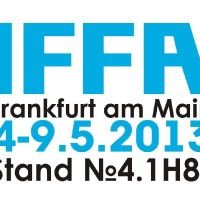 05.03.13
DEAR PARTNERS,
AND AGAIN WE INVITE YOU TO OURS!
From May,4th till May,9th 2013 in a marvellous German city of Frankfurt on the Main, where the biggest airport of continental Europe is situated, in a huge, being the third biggest exhibition center in the world – Messe Frankfurt – there will take place International industry exhibition IFFA 2013, in which «LOGOS» company will take part as an Exhibitor for the second time.
IFFA is a most significant exhibition in meat industry, and especially meaningful that visitors quantity from Russia will increase year by year.
Today to take part in one or another kind of key international events held in the territory of Europe has become a new and strog tendency among russian national meat processing plants, and we do our bet to be in such a trand.
In addition to this we smoothly work under expanding of borders of our existence in the market, and from this point of view we see the perspectives in IFFA participation for the development of ourselves as a strong european company and sales geography.
This time we decided to place distinct stress while presenting our products and give a thorough and detailed representation of products only home-made:
"BECKDORIN" collagen film
"LOGONET" elastic and non-elastic nets
"NET-CASING" fibrose casings in nets
Continuous clip
As before, we will try to build a fancy and comfortable stand for business meeting, negotiations and simple friendly conversations in a cozy atmosphere to save all the traditions of hospitality, which our company is famous for in Russia.
We will be glad to communicate, share opinions and ideas in our stand No.4.1Н81.
See you soon!
Yours, «LOGOS»
P.S. We care about you!