Our Space Agroprodmash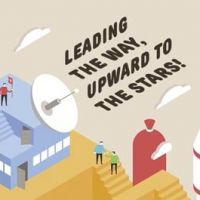 20.10.16
The middle of autumn has come, for us it means that all participants of meat processing industry will again find themselves at annual Agroprodmas Exhibitionh, Moscow.
The exhibition was as usual "in operative mode" and "close communication" with clients and partners, this year slogan was "Leading the way, upward to the stars!" We took Space topic as a basic one to one mote time show out active life philisophy - to move forward and upward, to overcome obstacles and overpower fifficulties!
Last year brought a lot of challenges, first of all our new partnership with a new supplier - Viscofan being the world leading company in artificial casings production. Wide assortment of collagen casings by Viscofan was presented by us at the Exhibition and stomulated sincere interest of our clients, os especial ineterst was the marking by edible color with grill effect on edible casings Colfan P and NDX LC.
Our long time partners also presented novelties. Not so long ago ViskoTeepak company manufactured fibrous casing of large calibers LCXL for manufacturing of hams and meat rolls, anti-fungal covering Preserve, connected with any type of fibrous, and new cellulose casing of large calibers LCC.
Krehalon company, our long-time partner, the unique dealer of which in Russia is being Logos, widened the product line of heat shrinkable films and bags by a new material SSL или Secondary Seal having advanced shrinkage and additional hermetization of "ears", avoiding blood and meat juice penetration into sides of a package. Due to more tight envelopping and reduction in free moisture weeping it is possible to prolong the tems of shelf life of the oproduct in such a package.
Own production of Logos was supplemented by natural beef caps manufacturing workshops for preparation of which has been recently opened by Logos.
Besides all said above, at Agroprodmash we presented the series of video clips, the became nore interesting, because we also made comperative testing with their competiror analoques apart from technological process of their usage. In a new season You can watch 3 of them: about collagen casings Viscofan Class and EW-D, Viscofan NDX LC and Colfan P, fibrous casings of ViskoTeepak, - see soon at out website and in SNS.
In summary we would like to express our gratitude to all present. We hope that space launch and magnificant voice of duduk and uncomparable jazz vocal singer Alina Rostotskaya made you positively charged and willing to cooperate with us. We wish you all success and a lot of more Agroprodmash exhibitions ahead!