Logopak LIGHT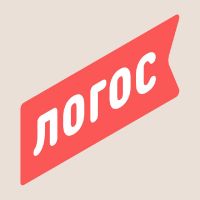 LOGOPAK casings are synthetic multi-layer heat shrinkable casings, are manufactured only from high quality european raw materials on modern high production equipment under balanced quality procedures.

Purpose:

Fish sausage and rolls

Заказать товар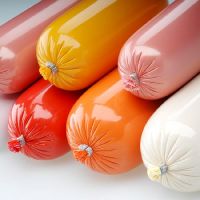 SCOPE OF USE:
Fish sausage and fish rolls

FEATURES AND BENEFITS:
DIFFERENTIAL PROPERTIES:
-High mechanical strength
-High heat shrinkable properties
-High barrier properties
-Gaz-, moisture- and vapor permeability
-High quality of polyamide
-Easy peel off ability
ADVANTAGES:
-Prevents water and fat pockets formation
-Gives an attractive tough outlook
-Attractive outlook of the end products for the whole term of storage (even and smooth sausage sticks)
-Stability of a size
-Biological inertia
-Prolongation of the term of storage of the end products
-Preservation of the aroma of meat products
-Protection from odors penetration
-Absense of losses during heat traetment and storage
-Stable output of the end product
-Heat stability
-Increase of the manufacturing productivity
COLORS
: 14 colors
CALIBERS: 40,45,50,55,60,65,70,75,80,85,90,100 mm
DELIVERED in rolls by 500 m
MARKING multi-colored printing
SHIRRING
StageI. Preparation
While wrapping of the roll, cutting into pieces it is required to avoid rubbing of the butt end of the roll of any surfaces. It should perform wrapping off the roll in a vertical position only while leaning it onto a cartoon frame. Soak in water at temperature 18-25°С for 30 minutes.
(!) DO NOT SOAK IN WARM WATER TO AVOID SHIRRING OF THE CASING
While using of the casing in cuts while soaking spilling of water throught the sleeve is necessaty to perform. It is necessaty to soak shirred casing not taking off the net in water at temperature 18-25 °С for 40-60 minutes, while entirely dipping into water. >
StageII. Stuffing
Forming of sausage products can be done by any stuffers: manual and automatic. Overstuffing of the casing 10% from nominal diameter (see the Table
The Table of Recommended Calibers for Stuffing
Niminal

caliber

of a casing, mm

Number of a spindle

(outer diameter),

mm

Caliber

of stuffing,

mm

45

28

50

50

28

55

55

36

60

60

36

66

65

36

71

70

48

77

75

48

82

80

48

88

85

48

93

90

48

99
Stage III. Clipping
Both manual and automatic clippers can be used.
Stage IV. Heat treatment
While manufacturing of cooked sausages it is necessary to decrease the quantity of water to be added to the moisture loss quantity for heat treatment, due to strong barrier qualities of the casing. This let to exclude the formation of water and fat pockets and breaks of the casing while heat treating, and the output of the product will not change. Usage of additives when composition of farce for cooked sausages requires a special attention on the follwing cycles of the technological process. The increse of moisture keeping capability of meat will lead to an intense swelling of proteins, which helps to increse inner pressure of farce onto the casing's walls during heat treatment.
While cooking in stationary steamers: >
Put the sausage sticks into the water at temperature 55-60°С to avoid non-controlled shirring and deformation of the sausage sticks . Sausage products are to be constantly kept under the water and moved for even cooking. Before loading of each new lot of sausages it is recommended to decrese the temperature of the water in a steamer up to 60°С.
While heat treating in heat chambers: ecxlude the processes of drying and roasting.


PROCESS
Temperature in a chamber,°С

Temperature

inside a sausage stick, °С

Duration,

min

Relative humidity, %
Step cooking
I step
50-55
-----
10
100
II step
65-70
-----
15
100
III step
78-85
-----
15
100
(!)IT IS STRONGLY PROHIBITED TO STRICK THE SAUSAGE STICKS
StageV. Cooling
Firstly, spraying is made by cold water and, secondly, cooling in the air.
CONDITIONS OF STORAGE
Store in the manufacturer's package in closed, clean and dry premises, odour free, protected from sunlight, at the dostance not less than 1 m from the heaters, at temperature not ebove 25ºС and relative humidity not above 75%.
(!) IT IS STRONGLY PROHIBITED TO THROW AND EXPOSE TO HITS BOXES WITH A CASING
The casing, which was stored at temperature below 0ºС should be kept at room temperature for not less that 24 hours before opening of the package. >
TERMS OF STORAGE
1 year from the date of manufacturing at the condition of the preservance of the manufacturer's package integrity.



‹‹‹

Back to catalog