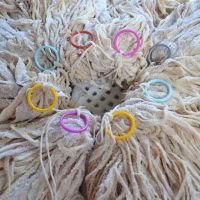 15.05.17
Our company has been supplying natural casings for more than 10 years. In 2013 we started our own manufacturing line for sorting, calibrating and pre-sale preparation of natural casings as a result of great demand for them. In 2015 we raised manufacturing capacity for several times and also we established the supply of beef caps, besides the supply of regular hog casings.
Now we suggest hog casings of Extra quality in bunches of 90 meters. Pay your attention to the following: to keep the price low, some of dishonest manufacturers consciously and deliberately underestimate the length of a bunch or they put into a bunch cuts which are less than 3 meters long, - all this, of course, does not correspond to EXTRA quality category being declared. You can easily make sure in our accuracy simply measuring any of bunches, - each being not less than 90 meters long.
Calibers of hog casings to be manufactured: 30/32; 32/34; 34/36; 36/38; 38/40; 40/42; 42/45; 45+
Assortment of beef caps is represented by two categories of quality - А and АВ – and includes all possible calibers: -/95, 95/115, 115/125, 125/+.
For own production we purchase only raw materials of high quality, importing them from South America and Europe, and also the best raw materials of domestic manufacturers. The peculiar characteristic of domestic raw materials is predominantly narrow calibers as a yield of a product. In turn, imported raw materials provide us with wide calibers, thus working on domestic raw materials also we can suggest to our clients wider choice of calibers' assortment. Irrespective of the country of manufacturing, raw materials are characterized by strength of walls, even and smooth surface of casings.
We can also tube natural casings and make the casings on soft tubes. This lets our clients to significantly increase manufacturing capacity and to save former equipment and personnel. If you use natural casing that has been tubed, the speed of stuffing increases twice.
Our manufacturing facility is HAССP ISO 22000-2007 certified, recently we achieved LEVEL III Compartment.